"Through Our Eyes" Follow-Up
"Are all of these paintings really done by people with autism?" My answer time and time again was a resounding, "YES!"
Over 85 pieces of art from 40 artists on the autism spectrum drew a crowd of almost 300 people who walked the gallery at The Universities at Shady Grove Priddy library to attend the opening of the "Through Our Eyes: Showcasing the Works of Artists with Autism" exhibit. Jack A. Holtz, an autistic pianist, offered musical ambiance while the international art movement started by autistic artist Gee Vero, the Art of Inclusion, invited people to engage with the exhibit to complete the half-face that, "sees itself as a solicitation of an autistic man for society to take on the challenge of "fellow human-being" with autistic people."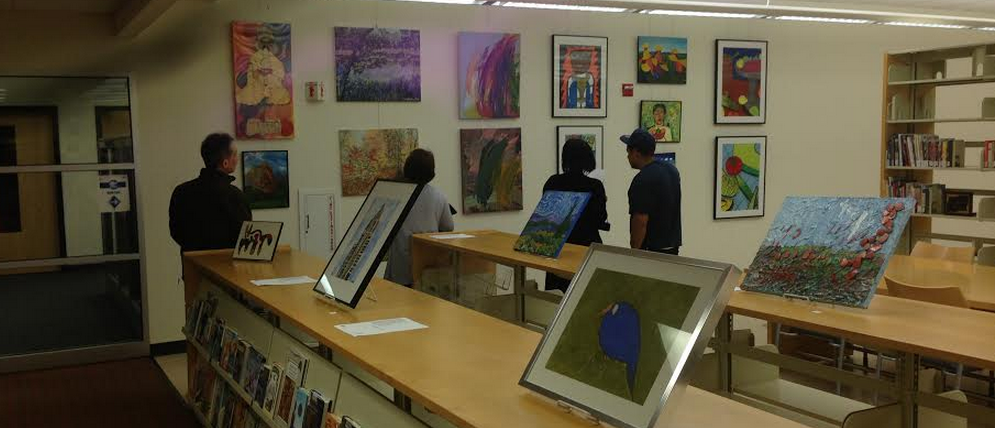 Many special guests arrived to learn more about the strengths and needed future supports for autistic adults, including our emcee, Emmy Award Winning, Fox 5's Sue Palka. The night culminated in an award ceremony that honored Brad and Melanie Colton for their dedication to their local community, Montgomery County.


Then, the beautiful Chou Chou, lead vocals from Doc Scantlin and the Imperial Palms Orchestra, wooed the crowd with her Big Band-era vocals and enchanting charm. As an autistic woman, her message is to create a world that expresses the deepest need in life- to love and be loved as you are. She used her husband Doc as an example, "He loves me not in spite of my autism, he loves me. He respects my right to be who I am."


Madison House Autism Foundation is so thankful for all of the artists, volunteers, and supporters who made this magical night highlighting the powerful artists on the autism spectrum and kicking off Autism Awareness / Acceptance Month with "Through Our Eyes".