Person-first Language Versus Identity-first Language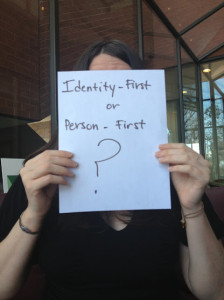 Two types of language – person-first  language and identity-first language- are being debated in the autism   community.  Are we autistic adults or adults with autism? Many who prefer one choice often find the other to be offensive.  Madison House sees the values that both approaches are meant to convey and uses the two terms interchangeably. It is a reasoned choice to respect each person's individual humanity while acknowledging that there is often beauty, wonder, respect, and insight in being defined by autism.  No matter which emerges as popular choice, our focus at Madison House is on moving the conversation forward by accepting and affirming autistic adults (or adults with autism) and ensuring that they are valued members of society.
Madison House's mission is to address the life issues of those with autism who are over 21. Today, we vote for increasing options and decreasing barriers in housing for adults with autism (or autistic adults) and for leaving the language preferences to others.  After all, like housing options, we believe that language options with respectful intent and validity need to be predicated in choice.  We would like to know your thoughts.