Collaborating with World Folk Music Association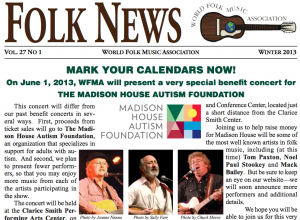 On June 1, 2013, World Folk Music Association (WFMA) will host a benefit concert at the Clarice Smith Performing Arts Center on the campus of the University of Maryland in College Park. Madison House Autism Foundation is honored to be the beneficiary of WFMA concert  and to curate a silent auction to raise funds for its programming by featuring art with connection to autistic adults.  We are working with autistic artists in this endeavor to raise awareness and funds for our programs. For more information about the silent auction or concert, contact Lucy at Madison House Autism Foundation and for information about tickets sales, please visit World Folk Music Association.  
We are looking forward to seeing  you!