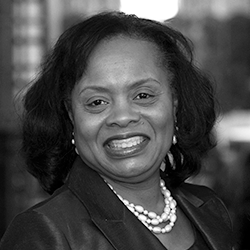 Sherrell Nicholson
Sherrell Nicholson is currently Vice President of Business Development with Optum, a leading health services innovation company, and subsidiary of United Health Care, which provides transformational solutions in data analytics, pharmacy care services, healthcare operations, healthcare delivery, population health management and advisory services. Ms. Nicholson leads Optum's federal capture and proposal management and has overseen the overall growth strategy and business development activities for key accounts including the U.S. Department of Veterans Affairs, Defense Health Agency, U. S. Department of Health and Human Services and other select Federal agency accounts.

Ms. Nicholson is an experienced business executive and leader with more than 25 years of public sector experience in business development and management consulting in areas encompassing enterprise technology and healthcare solutions. Over her career, she's negotiated and closed complex, multi-million dollar deals, developed multi-billion dollar sales pipelines, built, led, and coached top-performing business development teams.

Prior to joining Optum, Ms. Nicholson was a business development executive in federal sales at leading global IT consultancies including Unisys, Perot/Dell, ACS, L-3, CSC and others.

Ms. Nicholson has a degree in Chemical Engineering from the Georgia Institute of Technology and a Master's in Business Administration from Florida International University.