Behind the Scenes at MHAF: Autumn Office Bustle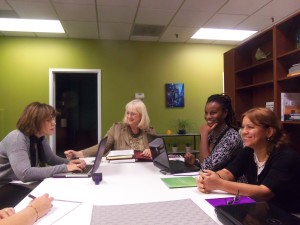 Autumn is a busy time around the Madison House office as we are in the early planning stages of various initiatives that will come to fruition in early 2014. We are looking forward to putting forth events that tap into the specific areas our organization feels most passionately about: housing, the arts, and education. We appreciate your ongoing support, and wish to find you in attendance at any of our upcoming events.
Housing Roundtable
In partnership with Purple Cherry Architects, Madison House hosted May 2013's roundtable "Spectrum of Possibilities: Decreasing Barriers- Increasing Options" at Johns Hopkins University School of Education- Montgomery County Campus in Rockville, MD. It was an enormous success as nationwide housing experts gathered together to offer insightful solutions to the mounting disability housing crisis in America. Madison House cares deeply about the rights of those with autism spectrum disorder (ASD) and intellectual and developmental disabilities (I/DD), and it is our mission to ensure that housing choice is a right for every citizen, whether or not one was born with a particular condition.
In March 2014, we are reigning in the experts, once again, for yet another roundtable discussion. Our hope is to further our understanding of the complexities that underlie the current housing landscape and to formulate scaleable  solutions to ensure that individuals on the spectrum and with other I/DD have access to the residential options that are right for them. Stay tuned for a list of participating organizations and experts.
Arts for Autism
Madison House believes that art can act as a window into the world of adults on the spectrum. With all of the incredible artists our organization has come to know, it is with great pleasure that we make certain that their work and talents gain proper recognition. In light of these interests, and in collaboration with the Universities at Shady Grove (USG), we will be hosting a number of Arts for Autism events in April 2014.
While the events are still in the early planning stages, our vision is as follows:
To exhibit 25–50 works of art by artists with autism or other developmental disabilities

Display materials providing facts and highlighting the unmet needs of autistic adults and their families

Sponsor a reception featuring artists and their families, local arts patrons and advocates, educators, and corporate and community leaders

Related programming in collaboration with a sponsoring school or university which may include panel discussions, lecture/seminar, film, or other educational program designed to build awareness, educate, and inspire local groups to take action
We are thrilled to be taking part in coordinating these events, especially during Autism Awareness Month. Keep your eyes peeled for updates into the coming year- the details are yet to unfold!
UVU Conference
Madison House has been a sponsor and active participant at the UVU Conference on Autism since its inception. This well-attended event captures insights on ASD from the perspectives of community members, professionals, educators, and researchers. Last year, Desiree Kameka, the project manager for the Autism Housing Network (AHN), attended on behalf of our organization and demonstrated the functionality of the AHN while highlighting innovative disability housing solutions across the country. We look forward to maintaining a presence at the UVU Conference on Autism in April 2014. Please see the flyer below for more information.
This is just a taste of what Madison House has to come as we enter the new year. We look forward to sharing our progress as these events begin to take form!