Jason's Future
Today is the last day of Autism Awareness Month…this year. Of course, it comes around every April and who knows what Jason will be up to at this time next year?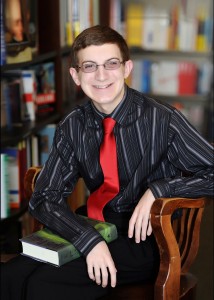 Jason in his Senior Picture at one of his favorite haunts–Barnes & Noble
As I said yesterday, he's planning on serving a local service mission for the Church beginning in January after he's turned 19. That means he'll still be living here with us and going to his assigned work area every day except Sunday, I imagine. You see? I haven't even researched all the options thoroughly yet. I know that Alane's son worked at the Bishop's Storehouse, for example, but I'm not sure if that was five or six days a week.
Until then, Jason is planning on beginning the Pathways Program offered through BYU-Idaho. It's perfect for young men and women who have difficulties fitting in socially or being independent, because it allows them to do most of their learning online while still gaining opportunities for socializing at their local Church Institute. An ACT score wasn't required (thankfully!), and once he succeeds in completing three quarters, he can then take any courses he likes  that are offered by BYU-Idaho online.
He'll start attending Institute twice a week this summer and then begin his first quarter in September. The mission will interrupt his studies come January, but he can pick up where he left off afterward, and finish the two remaining quarters.
We're hoping he'll be able to find some kind of employment this summer, as well. Not only that, but he needs to learn to drive. He's been fighting it, but it's a skill he absolutely needs for his own independence. I'll also be working with him on a few other life skills this summer, including finally learning to cook for himself.
From this point on, I plan to blog about Jason's progress only twice a month (probably every second and fourth Friday) in order to document his entry into adulthood and independent living. I appreciate all of you who have read and followed his journey thus far, and particularly those of you who have left comments either here or on Facebook.
One last point: Jason wouldn't have done nearly as well, had we not had the support of friends like Lisa Gonzalez (a good friend and daycare provider back in Riverside, CA who treated Jason like one of her own), the terrific staff and faculty of Sunshine Early Childhood Center and Ben Franklin Elementary School in Riverside, the wonderful Riverside Children's Theatre, so many friends in Orangecrest Ward, the very helpful staff and faculty at Enterprise Middle School and Richland High School here in Richland, WA (particularly Mr. Kopf), the Richland High School Choir, and the many wonderful members of Hill View Ward.
Three young men, in particular, made a defining difference for Jason once he started high school: Braden Nelson, Casey Hare, and Jackson Ostler.
These three were some of the most popular LDS seniors at the school and they took Jason under their wing and loved him and accepted him. Because they did, others did, too. And Lily Harris invited him to one of the formal dances, where they both had a wonderful time. I hope any teenagers who might be reading this will take a lesson from this. You CAN make a huge difference in someone else's life.
Lily is now studying at BYU-Idaho and all three young men are valiantly serving missions right now in Mexico and South America. They are due to return this summer and I know Jason can't wait to welcome them home.