Adults with autism face significant barriers in employment and community engagement after the age of 21, and it is easy for these individuals to slip through the cracks. Opportunities for the larger community to engage these individuals and embrace their talents are valuable for everyone. Madison House Autism Foundation's Arts for Autism program creates spaces for autistic adults to showcase their artistic talents, gain opportunities to realize self-expression, and open a window into the world of adults with autism, building awareness, understanding and acceptance. Please continue reading to learn more about our various arts initiatives that have impacted the lives of countless adults on the autism spectrum.
---

Madison House Autism Foundation's 2017 traveling art show "#Imagine21" features 21 works by artists on the autism spectrum. #Imagine21 is part of MHAF's Arts for Autism program and emphasizes "21" to raise awareness of the thousands of autistic adults who lose federally mandated services at age 21. #Imagine21 raises awareness of the unique perspectives and talents of artists on the autism spectrum while connecting these artists with the broader arts community. #Imagine21 premiered at the 2016 "Music for a Mission" concert at BlackRock Center for the Arts, was featured at the Admiral's Club at Reagan National Airport, and was shown at the Autism After 21 Day Inaugural Breakfast. Watch the slideshow below to view the artwork, and contact [email protected] to purchase high quality prints of the works.


---

VisArts and the Madison House Autism Foundation (MHAF) have partnered together to create the VisAbility Art Lab for young adult artists with autism and other intellectual and developmental disabilities.  The aim of this program is to provide artists with a studio at VisArts, a community arts organization in Rockville, Maryland, where they can explore and develop their artistic talents, participate in workforce development and life skills training, and forge a deeper and more meaningful relationship with the community. Participants create art at their own pace, observe and learn art techniques from studio artists, work with a curator on developing exhibitions, and interact with members of the public attending art classes, camps, gallery tours and artist talks. Basic life skills and workforce development training are designed to promote self-sufficiency, success in the workforce, and growth as an artist and individual. Unlike other supported studio programs for people with disabilities, the VisAbility Art Lab is fully inclusive and is integrated within the VisArts creative community.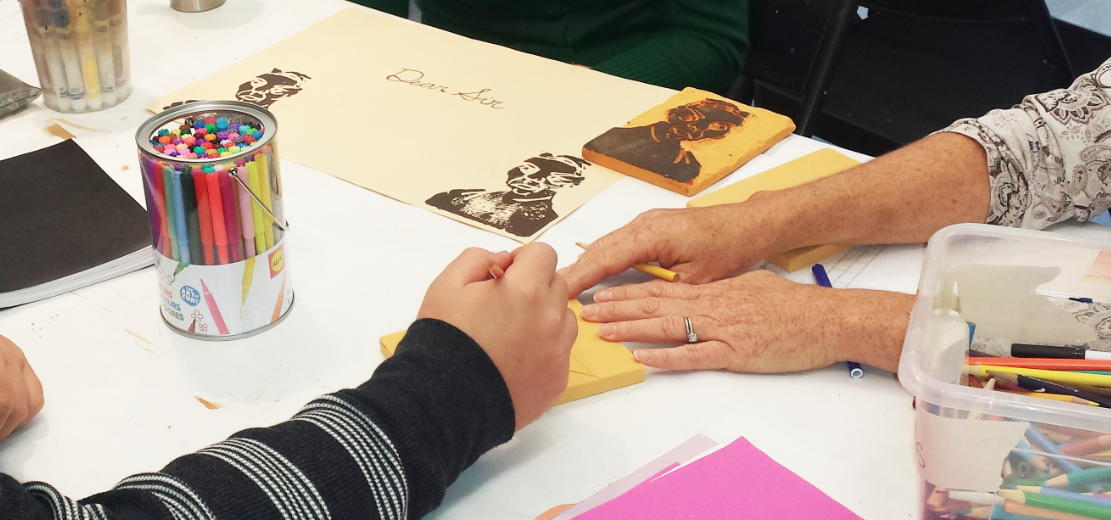 Our vision for this program is simple: we are creating a place where artists with disabilities can discover and develop their talents, and thrive within a larger creative community. Artists will work and learn alongside their peers and have the opportunity to fully participate in the creative and professional opportunities at VisArts. Building on the strengths of each individual, VisAbility Art Lab expands the personal and professional horizon for its' members, as well as increasing connections between artists both with and without disabilities. Through structured facilitation in the studio, professional development workshops and training on disability awareness, and day-to- day interaction together, both VisArts artists and staff developed an appreciation and understanding of individuals with autism. VisAbility Art Lab has already seen successes and exciting changes for our artists during our pilot program this year. One artist who previously was largely nonverbal now regularly communicates her decisions and artistic preferences, as well as her enthusiasm for her new. Two of the three artists have had their artwork exhibited and have had opportunities to meet their new fans. The Art of Inclusion, VisAbility Art Lab's first exhibit, featured artists from the program as well as other studios in the metro area. The opening reception attracted a broad audience of family, friends, artists, and the Rockville Town Square public.
---
MHAF Featured Artists
Each month, Madison House Autism Foundation shares and promotes the story and work of one artist on the autism spectrum. The MHAF Featured Artist series brings awareness to the broad array of experiences, successes, and challenges experienced by adults on the autism spectrum while highlighting the talents possessed by this diverse population. Please enjoy the stories of these talented individuals below:

---
Arts for Autism Events
Arts for Autism concerts and exhibits benefit individuals on the spectrum, artists, and audiences of diverse backgrounds. Media coverage of these events and the artists who participate help spread awareness even beyond those who attend our events in person. We believe that the unique talents of those on the spectrum deserve to be in the spotlight. Many individuals with autism use art to communicate feelings and ideas in a way that transcends language. Sharing this work with the public offers neurotypical individuals a unique opportunity to see the world through different eyes and gain greater understanding of autism through sharing a new perspective.
Many budding artists have exhibited for the first time or sold their first piece through a Madison House event. Even more artists are inspired to embrace their work and pursue their talents seriously. Several artists have made connections with the press through Madison House events, giving them a solid platform from which to launch a bright future – maybe even a career.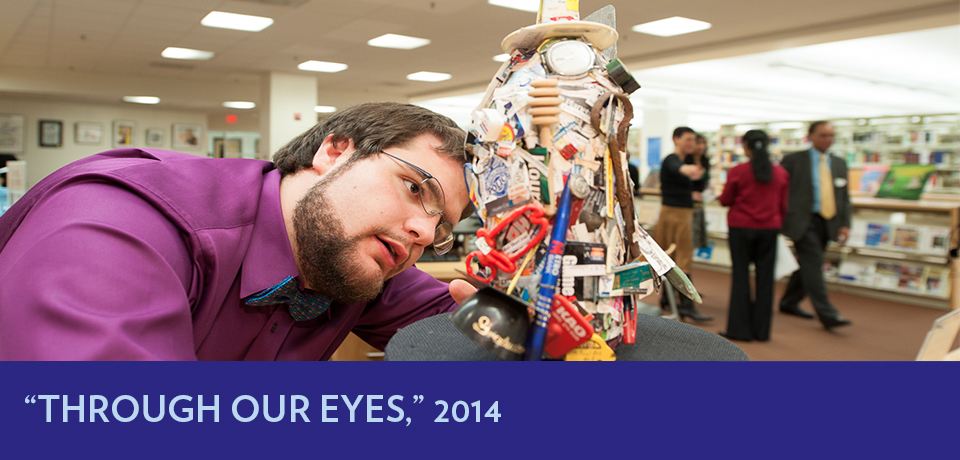 In partnership with The Universities at Shady Grove
The "Through Our Eyes" Arts for Autism exhibition offered a window into the way autistic adults perceive our world and gave viewers the chance to understand, transcend, and work together to create a more humane and productive future. The students at the Universities at Shady chose to focus on the issues that adults with autism face as one of their key Civic Engagement topics for the year and also organized a panel discussion and related events.
---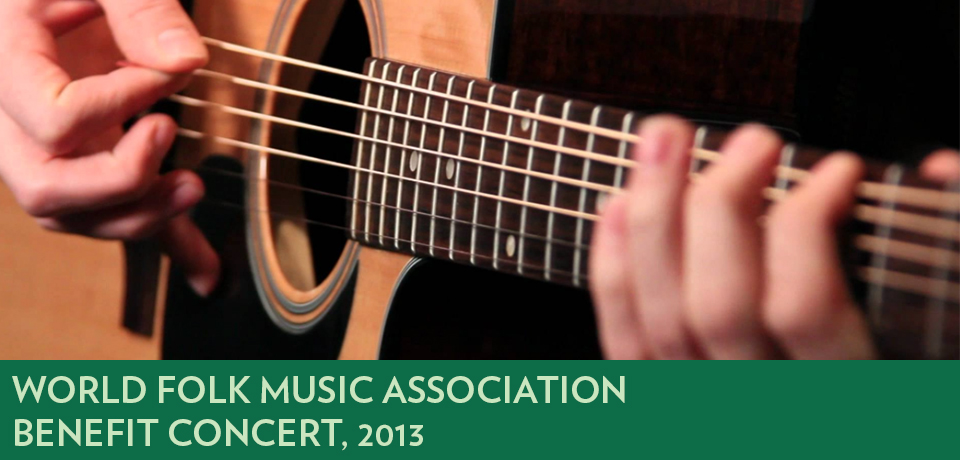 In partnership with the World Folk Music Association (WFMA)
Folk music fans had a rare opportunity to experience legendary folk musicians while supporting Madison House Autism Foundation at a benefit concert sponsored by the World Folk Music Association. Artists included: Tom Paxton, Noel Paul Stookey, Christine Lavin, Buskin & Batteau, and Mack Bailey. Not only was this a night of music, but visual art as well. Sixteen artists on the autism spectrum showcased their works during the show, and many of their pieces were sold at auction. It was truly an event to remember, and Madison House expresses gratitude to all of the performers, participants, and attendees that took part in making this special evening possible.
---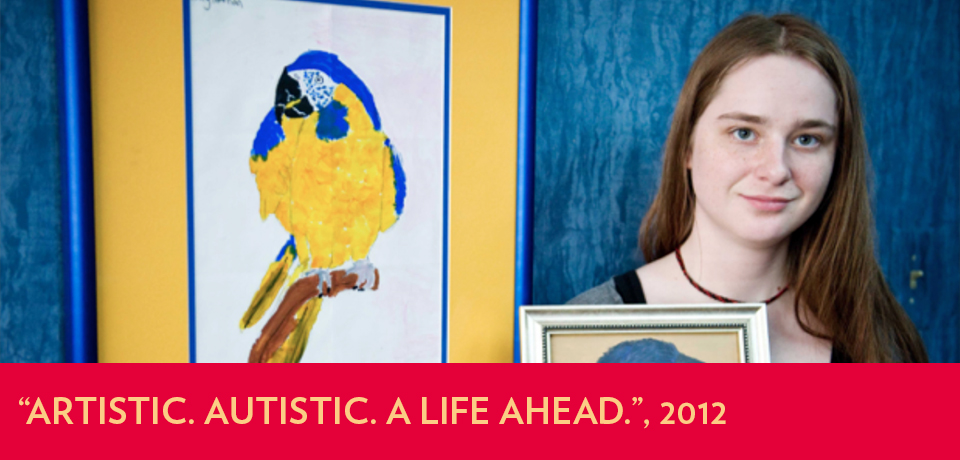 In partnership with Johns Hopkins University
In celebration of National Autism Awareness Month, Madison House teamed up with Johns Hopkins University and dozens of local and national artists on the autism spectrum to create "Autistic. Artistic. A Life Ahead."  This exhibit, which ran April 2 through June 1, 2012, gave artistic expression to the issues, challenges and miracles of living as an adult with autism.
---
Several arts organizations and service providers have worked with Madison House to sponsor our events and exhibit their artists. These connections allow Madison House to boost the talents of individuals in the community and assist other organizations in their valuable missions. Strong relationships with various service providers and arts organizations also provide Madison House with a body of resources and knowledge that benefit the larger community. Would you like to support the Arts for Autism? Click the button below to invest in this important program!